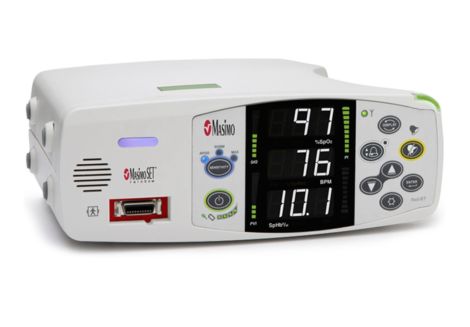 Upgradable Rainbow technology in a versatile, easy-to-use bedside monitor
Choose the noninvasive measurements that are right for your clinical setting—oxygen saturation, pulse rate, and perfusion index in addition to total hemoglobin, total arterial oxygen content, PVI, carboxyhemoglobin, and methemoglobin.
> Featuring "gold standard" Masimo SET pulse oximetry, proven in more than 100 independent and objective studies to provide the most accurate and reliable SpO2 readings during motion and low perfusion.
> Built-in wireless radio for bi-directional communication with the Masimo Patient SafetyNet® remote monitoring and clinician notification system.
> Upgradable Masimo Rainbow SET technology platform lets you add total hemoglobin (SpHb™) and oxygen content (SpOC™) through simple field-installed software upgrades.
> Additional upgrades allow you to continuously and non-invasively measure carboxyhemoglobin (SpCO®), methemoglobin (SpMet®) and PVI®.
> Versatile and easy-to-use.
Built-in Radio for Communication with Masimo Patient SafetyNet
The Rad-87 features a built-in radio for wireless communication with Masimo Patient SafetyNet, the remote monitoring and clinician notification system that helps you keep at-risk patients safe on general care floors. Battery power allows for continued transmission during patient ambulation.
Custom Configuration Options
A simple, user-centered design allows activation of many features with only a single touch.
Easy-to-read high-contrast display eliminates confusion common with many bedside monitors.
One sensor, multiple measurements. All Rainbow measurements can be displayed on the Rad-87 through a single noninvasive sensor.
Alarms and alerts can be enabled at the bedside or remotely, via the Masimo Patient SafetyNet Remote Monitoring and Clinician Notification System.