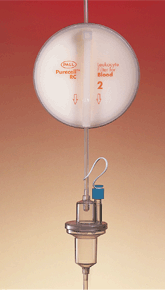 • Clinically proven media technology
• For standard or rapid flow applications
• Easy prime technology
• Enhanced ease of use
• High efficiency leucocyte depletion
• High red cell recovery
• Minimal filter hold-up volume
• Rapid priming without saline
• Bedside filtration of two units of red cells


Benefits

■ Clinically proven media technology:
• Protects the patient against transfusion associated complications such as microaggregates, Cytomegalovirus,
immunosuppression and alloimmunisation(*).

■ Ease of use has been significantly enhanced by the new filter design which provides:
• Priming by gravity or rapid priming by squeezing the blood bag.
• Unique self levelling drip chamber allowing self priming of the filter and drip chamber.
• New vented spike design to allow upstream of filter to drain following transfusion, maximising red cell recovery.
■ Dependably and efficiently delivers low leucocyte residuals, affording the maximum patient protection against leucocyte
related transfusion complications (consistently averaging less than 2 x 105/unit for buffy coat poor red cells)(*).
■ Primes directly with red cells quickly and conveniently without the need for priming with saline
■ High technology filtration media and minimal filter hold-up volume (31 mL after recovery) provides minimal loss of red
cells without the need for saline flushing.

■ Unique housing design allows maximum use of the filter media surface area for consistent results.